Electronic Batch Registration Format
EBR (Electronic Batch Registration) is a format used by US and Canadian music publishers for submitting registrations to ASCAP, BMI, and SOCAN. It is also informally accepted by SESAC.
It is a spreadsheet (Excel) format, so no specialised software is required for creating and editing of EBR files. It is best explained in the video below.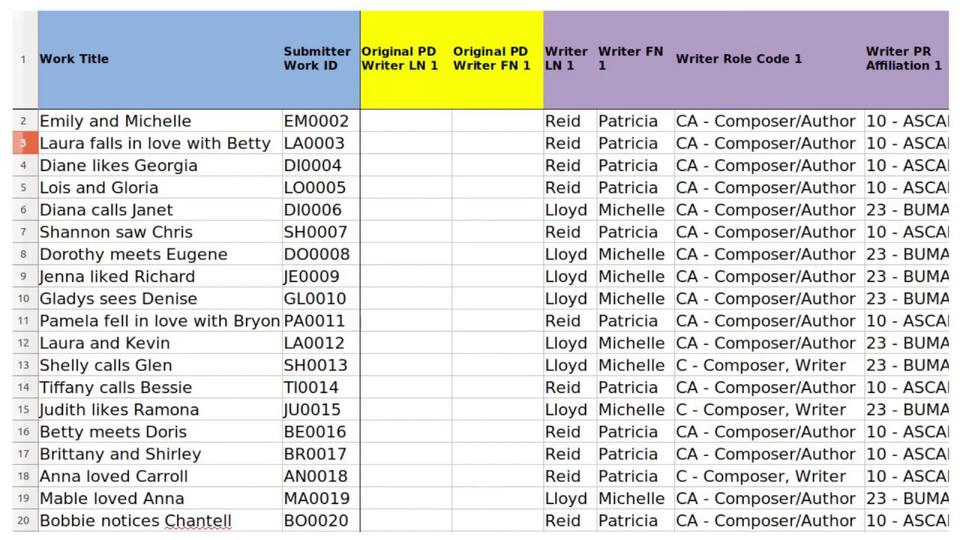 From a video about EBR format
Origins of EBR
At the time when PROs in the US and Canada started accepting batch registrations of musical works in Common Works Registration (CWR) format, CWR-capable software was scarce and expensive. As they only used a small subset of data from CWR, EBR was conceived. Being a spreadsheet format, editable in MS Excel, LibreOffice Calc and other tools, it requires no specialised software.
Pros
EBR is a much better approach when registering with the aforementioned societies compared to registering through their web portals, especially if registrations contain writers and publishers in more than one. EBR beats web portals.
There is currently only one real advantage of EBR over CWR. It can be edited in Excel and other spreadsheet software, requiring no specialised tools. This is, however, a diminishing advantage as CWR-capable solutions are available for free or at a fraction of the costs compared to a few years ago. It is loosing to CWR.
Cons
Being much simpler than CWR, EBR is by no means simple with 646 columns in the full template. It is cumbersome to manage, especially with multiple publishers and even more if some of them are administrators and sub-publishers.
It holds no data about mechanical or sync rights, so it is pretty useless as-is for submissions to HFA or MLC or DSPs or to send data to sub-publishers.
The biggest con, however, is that Excel provides no validation for EBR files, so errors are usually detected by the receiver and registrations are rejected. Then the publisher has to fix them and hope that there are no further errors.
Alternatives
CWR format is the obvious choice. Yes, it requires specialised tools, but publishers should use them anyway, especially if DMP (free open-source software) works for them.